With summer well and truly behind us and the faint jingle of sleigh bells creeping up on us, it's high time to start thinking about your Christmas corporate event and how you'd like to treat your hard-working employees at the end of the year.
There's plenty to consider when trying to book a Christmas party - where you are going to go, will it be an overnight stay, what will your employees eat and what sort of entertainment you want to include. Whether you book a scheduled Christmas party night at a nearby venue or you put together your own night of entertainment, there are plenty of options to choose from. If time is tight or you are struggling for inspiration, why not take the stress out of the occasion and let Team Challenge Company plan the event from start to finish?
We can provide everything from a venue finding service to catering and entertainment - we can even make the room completely themed! If you love a good theme for your corporate parties, consider the following inspiration for your end of year festivities...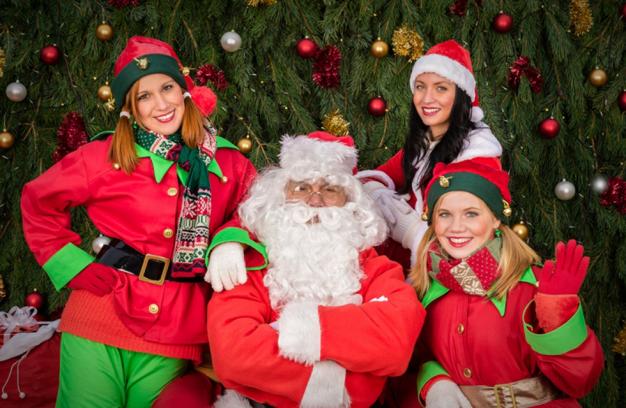 Festive
For a traditional Christmas party, choose a festive theme, including seasonal classics like snow-decked trees and gorgeous tabletop poinsettia displays to twinkling lights and hanging stockings. We will transport your guests to a magical winter wonderland that will bring about nostalgic feelings of exciting Christmas Eves spent as children eagerly waiting for the following day! Complete the night with your own Bucking Rudi! Our reindeer-themed answer to the Bucking Bronco, have your guests try their luck as Rudi bucks, twists and jumps to escape his rider.
Black and White
Themed around elegance and style, a black and white party theme sees a striking colour scheme perfect for creating a more formal setting. Relax on prestigiously-decorated tables and finish off the night with our Big Quiz or even a Murder Mystery!

Casino
Black and white but with a less formal, more fun approach, our casino theme nights can be accompanied by our fantastic casino tables and professional croupiers who endeavour to wow and amaze your guests with their tricks and skills straight from the Las Vegas strip. We will provide your guests with fun casino money and chips to play on any of the fully-sized tables and the big winner of the night will be given a winners' trophy to take home.
Circus
Step right up! Head through the exciting circus tent doors where your guests will be greeted by their ringmaster for the evening. For a night full of delight and thrilling experiences, consider a circus theme for your next party evening. With incredible props and spectacular themed settings, a circus theme is sure to take your employees' breath away as they step through into a whole new world.

Have you had any successful themes in the past that employees would like to see again? Maybe you'd like to keep it simple with an evening of good food, great company and some live entertainment? Whether you are currently planning or still need to plan this year's Christmas corporate event, get in touch with our friendly team who will be thrilled to help you plan something exciting for your employees.
Give us a ring on 03300 04 09 03 or contact us via our online contact form.