When the weather is getting warmer and the sun is out, the last thing anyone really feels like doing is being stuck at work! If you are struggling to concentrate while the sunlight streams in through the office windows or are fed up with all the talk of holidays and getaways around the water cooler, it is time to take action.
We all know that team building events are great at any time of year, but their importance is never noticed more than during the warm summer months. At this time of year, we can almost guarantee that holidays and family activities like BBQs and picnics will be on your employees' minds much more than that overdue report they're supposed to be working on.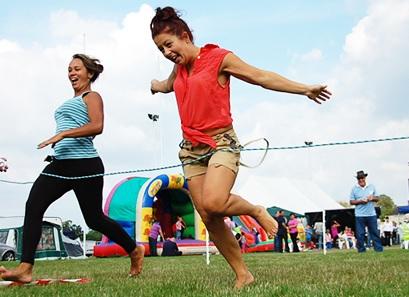 Summer Activities
While it may be natural for employees to experience a lapse in concentration, motivation and productivity over the summer, their workload is only likely to increase as extra tasks need to be taken on when colleagues are away, for example. For reasons like these, it is actually more important than ever for your employees to be on top of their game during the holiday season.
If you are finding that rates of productivity are slipping, team building events offer an effective way of reinstating a fresh feel to the office atmosphere. As well as promoting inclusivity and fostering workplace friendships and relationships, team building activities can also help to encourage communication among team members; a lasting dialogue which will then be transferred directly across to the everyday working life.

Corporate Family Fun Days
We all know that summer is a time for family, fun and spending time in the great outdoors in order to make the most of the nice weather. While this may be difficult when you spend the majority of your day busy at work, there is also a range of alternative ways to get around this.
Corporate family fun days offer the perfect balance between a useful team building event and an enjoyable way to include the family in your summer activities at work. We offer a full range of different activities for you, your team and the whole family to enjoy as part of our family fun day packages. From classic indoor games to outdoor GPS treasure hunts and technology-based events, there are always plenty of choices to allow you to tailor the day to your business' individual requirements.