Race Night
Boost morale and encourage healthy competition with Team Challenge Company's fun-filled corporate race night.
The Mission - accumulate fun-money through betting on a variety of different races.
The Result - an exciting and enjoyable team bonding experience.
How It Works
Take your guests on a competitive evening journey unlike any other with our popular race night event. Hand us the reigns and watch on in anticipation as your colleagues get closer to one another and cheers echo through the room. Team Challenge Company specialise in event management, enabling you to get involved and enjoy the entertainment without trying to juggle running the event at the same time!
During our corporate race night, attendees are split into teams and asked to accrue the most fun-money through strategic race betting at one of our specialist tote booths. The teams are pitted against each other with the promise of a victor's trophy as well as the true prize – bragging rights!
Learning Outcomes
The best part about our work race night is that the attendees become closer during the whole experience. Team-based competitiveness unites those involved against the other participants, encouraging healthy competition and promoting social interaction among team members.
Bring your team closer together and find out whether you have what it takes to be crowned the winners with our corporate race night experience!
We've Got it Covered

Engaging Compere
Full Audio and Visual system to suit Your Venue
Interactive & Enjoyable
Fun & Motivation
Team Challenge Company Winner's Trophy for Winning Team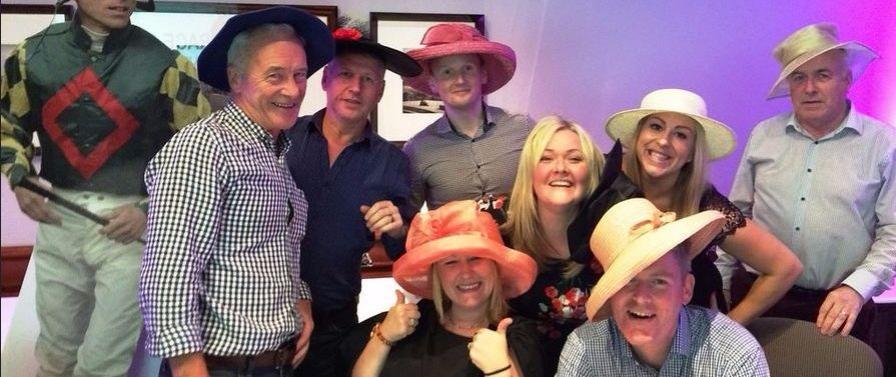 Each race is broadcast using our big screen and complete surround sound music system. To ensure that everyone is interested, we use a wide range of different race types, from cars, dogs and horses to flat and jump races, many from famous race tracks across the UK. A charming host, a competitive atmosphere and bonus quiz rounds to boost each team's funds make for an exciting evening filled with plenty of laughter.
You can even take your evening entertainment to the next level with one of our themed upgrades, including a Grand National package which truly captures the essence of race night and is perfect for adding the final touch to your event.
Our race nights are suitable for all sorts of different occasions, whether it is the conclusion of a team building away day, a high-energy evening of entertainment for clients or a bonding exercise for your colleagues and team members. When you're attending a Team Challenge Company event, you're investing in a memorable experience that every attendee will enjoy.
What's Included
- A fun and engaging compère to entertain and guide the event every step of the way
- A dedicated event manager to ensure everything runs smoothly
- A full audio-visual cinema system adaptable to any venue
- Interactive and enjoyable activities including betting, quiz questions and competitive team endeavours
- A Team Challenge Company winner's trophy for the team that raises the most fun-money
Downloads
You can download a copy of our Team Building brochures and more: