A genteel Georgian townhouse in elegant Bloomsbury, The Montague is a peaceful hideaway in the heart of the city that combines up-to-the-minute sophistication with ample old-world charm.
---
The Montague on the Gardens comes fully equipped to meet your needs and more, with highly attentive staff and a range of business facilities to support you throughout. Our function rooms can accommodate small and large groups in comfortable elegance with extra thoughtful touches to ensure your event is a success.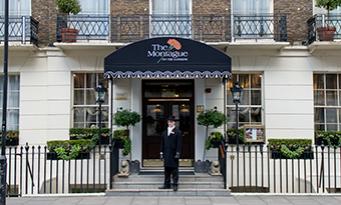 Grand celebrations demand a venue that does justice to the event – somewhere steeped in style, filled with history, and blessed with a wonderful location. The Montague on the Gardens Hotel is the ideal venue for all kinds of themed events such as Summer Fun Days, Murder Mystery Dinners and Fun Casino Nights.
The Blue Door Bistro offers a modern, yet classic British menu. Guests can enjoy afternoon tea in the sun room or cocktails in the cosy Terrace Bar. During the summer months, the hotel offers al fresco dining in a peaceful and secluded space overlooking the gardens. The Garden Grill features a selection of mouth-watering à la carte dishes and barbecues cooked from the grill.