Situated in the heart of the historic town of Alnwick, this charming 300-year-old coaching inn retains many authentic period features that make it as popular today as it ever was.
---
Oozing character and steeped in history the White Swan offers a unique insight in to life in years gone by subtly combining traditional features with modern life. For example, the ever popular Olympic Suite with its original oak paneling, mirrors, ceiling and stained glass windows, salvaged from the SS Olympic, sister ship of the ill fated Titanic, is a favourite amongst diners who enjoy first class 21st century cuisine in its luxurious surroundings.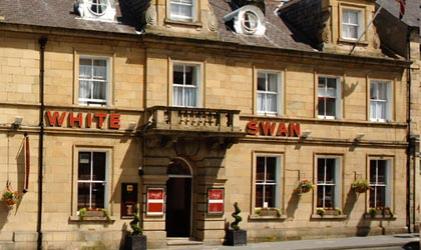 With 57 handsomely furnished en-suite bedrooms, The White Swan has its own distinctive charm. The friendly and professional service offered to all, whatever the occasion for their visit, ensures that each guest is given a truly inimitable hotel experience.
Best known for its Olympic Dining Room, you can enjoy dinner surrounded by the magnificent panelling, mirrors and stained glass windows from the Titanic's sister ship. All our bedrooms are designed to an impeccable standard, and Hardy's, our contemporary, informal Bistro, is open all day for coffee, light lunches and an excellent bistro menu.