Guthrie Castle in Dundee is a superb venue set in 156 acres of outstanding natural beauty that are the perfect place to host your Corporate Family Fun Day Event or afternoon of Team Development.
---
The function "Pavilion", built specifically for entertaining, can site 350 comfortably for a Corporate Quiz Night or Gameshow, Race Night or Fun Casino Night, whilst the various cottages around the estate add to the numbers that can be accommodated overnight.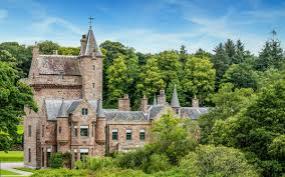 Whether you are discussing plans and strategies, brainstorming or team building, you will find the facilities provided at Guthrie Castle are unparalleled. Whether you have opted for a Coporate Fun Day, Specialist Team Building event or a night of Evening Entertainment relax in the opulent surroundings of Guthrie Castle.
Guthrie Castle is totally private and secure and perfect setting for your next Corporate Entertainment event or Experiential Learning Workshop.