Located in Falkirk - Recently enhanced, the hotel now offers the regions largest banqueting, exhibition and meetings venue outside Glasgow and Edinburgh. The well designed spaces are flexible enough to meet most needs and a full range of audio visual equipment is available.
---
Macdonald Inchyra Hotel & Spa is one of the largest hotel conference venues in Scotland. Having the capacity to host up to 750 delegates in the main Inchyra Suite, it is an ideal venue for large conferences, product launches, corporate dinners and associations. Our meeting and conference space is extremely flexible and our six meeting rooms are all naturally lit.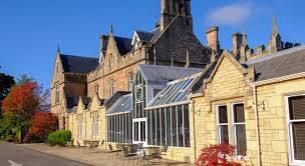 Savor the experience of fine dining in the award winning Priory Restaurant. Enjoy the flavours of the world's great dishes prepared for you by Scotland's top chefs, complimented by carefully selected wines from the Old World and the New. Facilities include 107 en-suite bedrooms, conference facilities to 750 delegates, Vital health, fitness and beauty club and 500 free car parking spaces.
With free WiFi throughout all meeting facilities and the option to add, as extra, dedicated bandwidth up to 100 MegaBytes per second, if secure and reliable internet connection is the success to your event, then look no further than Macdonald Inchyra Hotel. Benefiting from natural daylight, air-conditioning and 44 surrounding acres of land you will be blissfully content with the event accommodation at central Scotland's premiere conferencing venue with Scotland's first Scottish Steakhouse onsite, further providing you with the utmost in luxury cuisine in the heart of the Scottish countryside. After a multi-million pound investment, you can rest assured that all of the hotel's distinctive meeting rooms and event suites are well equipped to the Meeting at Macdonald standard.
MACDONALD INCHYRA GRANGE HOTEL