As the clock chimed the hour it was time to open the doors and welcome our 200 guests to the stunning Hilton Treetops in Aberdeen for an evening of entertainment, awards, celebration and fundraising in aid of the Aberdeen Lynx Ice Hockey team. Drinks were served as everyone arrived into our Las Vegas style casino. The Banker was on the threshold to welcome everyone with some Fun Money and permission to blow it all on the Roulette, Blackjack or both! With promises of the golden trophy for the champion and the dreaded wooden spoon for the biggest loser of the night it really was all to play for. Guests were soon invited to have a flutter before taking their seats for dinner. The ballroom had been transformed into a red and black wonderland and was truly breath-taking, as was the sumptuous dinner that soon followed as everyone took their seats. We kicked off the fundraising in style with a fast and furious game of Hit or Miss where everyone donated generously for their chance to win.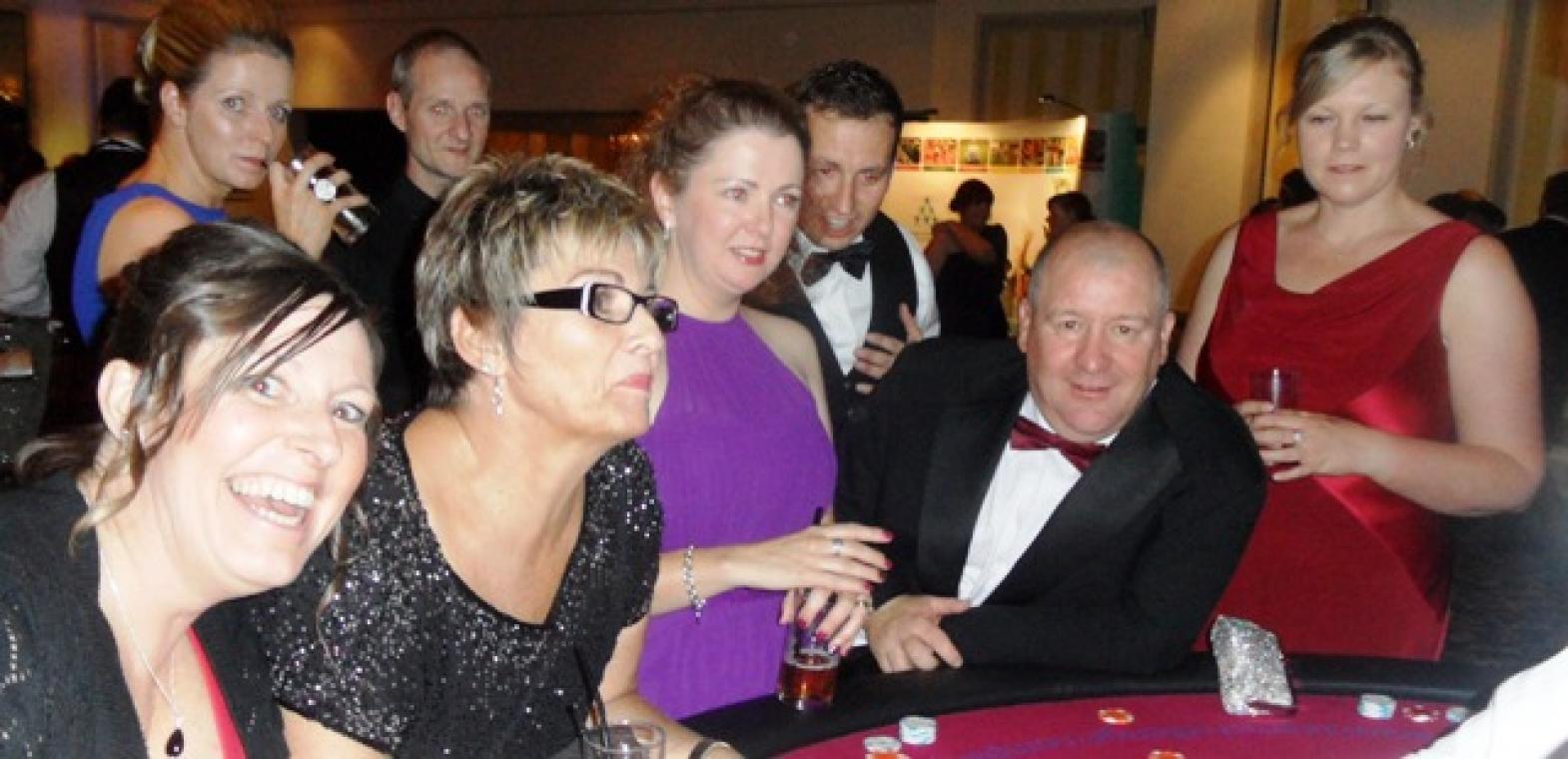 Much entertainment followed, including a raffle with some incredible prizes and of course the awards themselves! The applause could be heard for miles as each winner took their bow on stage and received their award with grace, and it has to be said much hilarity and fun. Before heading back to the Casino to finish off the evening there was time for the auction which in the end raised over £3000! With prizes including a ferry trip and two night stay in Belfast to watch the Belfast Giants ice hockey match, a signed Celtic Top, restaurant vouchers and more, it was our top lot that fuelled a bidding war; a signed Stig helmet from Top Gear! John Colley and Steve Kynoch both wanted it and they both fought hard driving the bids up, up and up! In the end the final hammer fell on Steve's incredibly generous bid of £1,050! With delight he claimed his new purchase and made his donation to this truly excellent cause as we concluded the auction.
As the night wore on and the drinks flowed there was time for a final flutter at the Casino where several players had their ups and their downs! It was the ladies on Roulette that first learned that you have to bet big to win big... until they went all in and lost it all! In the end we had our final five playing off head to head on Blackjack for the top spot but to be fair they were all winners; unlike on the Poker where the high rollers of the night were whittled down to one! It was a superb evening full of fun that raised a lot of money and celebrated the achievements of a truly great team. We very much hope to have the opportunity to share another such celebration with you all very soon.