The magnificent Mercure Ardoe House Hotel once again played host to an afternoon of fun filled Corporate Entertainment - Country Pursuits style. The small group of six were quickly divided into two teams and pitted against each other from the off. The first 100 bonus points of the day going to the perforating puffins for best team name. The Dire Genesis team captain Catalina tried her best to gain some reward for devising their name before the other group, but no bonus points this time. The first activity of the day were Mini Highland Games! Jimmy hats and kilts at the ready, the two teams tackled the welly throw, fly fishing, haggis roll, caber toss and the stone lift!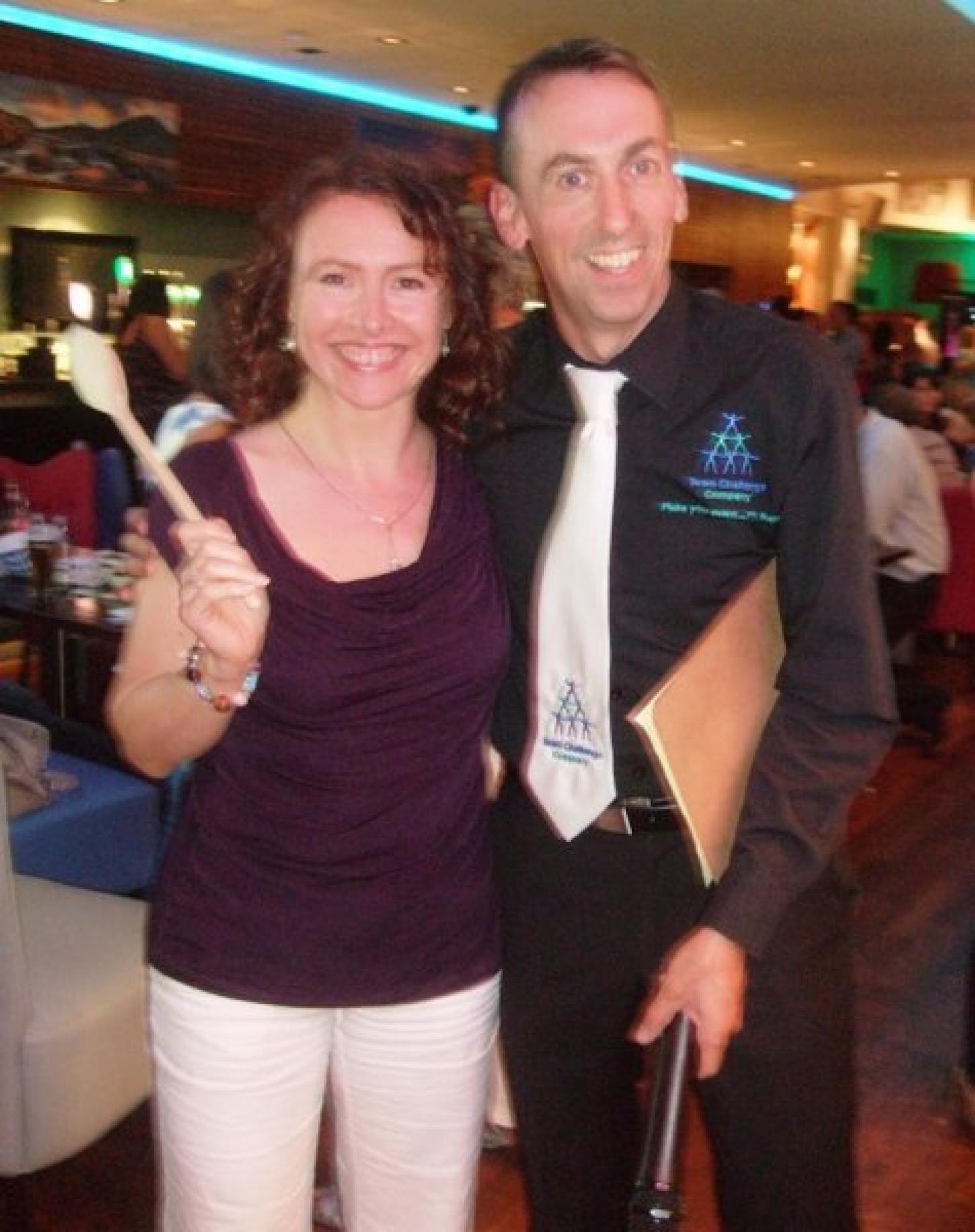 Dire Genesis took the early advantage as their wellies were both long and accurate, leaving the puffins trailing in their wake! Laong managed to sabotage the fly fishing reel for his team and had to beg for a go of the oppositions. This was to no avail however as The Puffins managed to catch themselves as opposed to racking up some much needed points. Dire Genesis also took the fly fishing round with a score of 1500 and some accurate casting. The haggis roll was both intense and competitive but with only 1000 points scored between the two teams! The win again, going to the Catalinas team. Caber toss was hotly contested and very well played by everyone - but again the Dire Genesis winning this event! Stone Lift was punishing, especially on Callums arms after nearly a minute! A great effort! Im sure at this point our score-master Simon sent some bonus points The Puffins way as they lost out by only half a second!
The Dire Genesis took a commanding lead in the Country Pursuits Chip Shot Golf competition as The Puffins looked to win some pride back at least. After an array of weird and wonderful techniques in how top hold the golf RACQUET - as Calllum put it - The Puffins finally got their revenge, just 60 points in it though! Their first win of the day! We are still looking for Laongs and Germens golf balls as they often opted for power over positioning. Our final activity of the day was Laser Clay Pigeon Shooting where Matt and Germen really came into their own. Despite winning 1000 bonus points for the fastest gun of the day, The Puffins were subjected to another demoralising defeat! Losing on all 3 games - skillshoot, rapid fire and speedshot. The Dire Genesis were just too good for The Puffins on this occasion - winning the day 8750 to 6750 and thus taking home the magnificent Team Challenge Company Trophy. Better luck next time Puffins! Thank you to the team from Shell for a fun filled, entertaining Cuntry Pursuits event at Ardoe House Hotel, and also thank you to Justine for organising the event!