Voodoo Rooms was the gorgeous venue for this Evening of fun and highly competitive Executive Quiz Night as the eleven teams from Kames Capital got stuck in to win that coveted Winner's Trophy.After canapes and a few drinks it was time for the fun to begin as we took to the stage and got started with everyone's favourite Hit or a Miss. Luckily the first one was only a practise as it was almost a total wipeout! But it was Scooby Dooby Don't who knew their chart toppers taking the first win of the Evening.

There were eight hilarious Quiz rounds including a controversial Dinbats round! Turns out to the wonderful people from Kames Capital the word final does NOT mean last! Who would have thought it? So after a thorough telling off of the Quiz master we continued with laughter to the Memory Test round where teams did very well after the inital uproar of 'It's way too bright'. The lights were dimmed and our eyes were peeled for a winner - I am Spartacus. At the halfway stage it was Tears for Spears who were striking out in the lead after having played an early Team Mascot to double their points.
Following a quick refreshments break the second half was fast and furious as Drummond's Angels, The 3rd Floor is where its at and I'll give you 10 extra points for that, all stepped up their game with strategic point doubling and possibly some cheating (Outrageous Cheats we are looking at you!) The Ok Magazine Round was a huge hit with record scores as Quiz Team Aguilera hit there stride and Dervi Ops Versus the World hit the bar.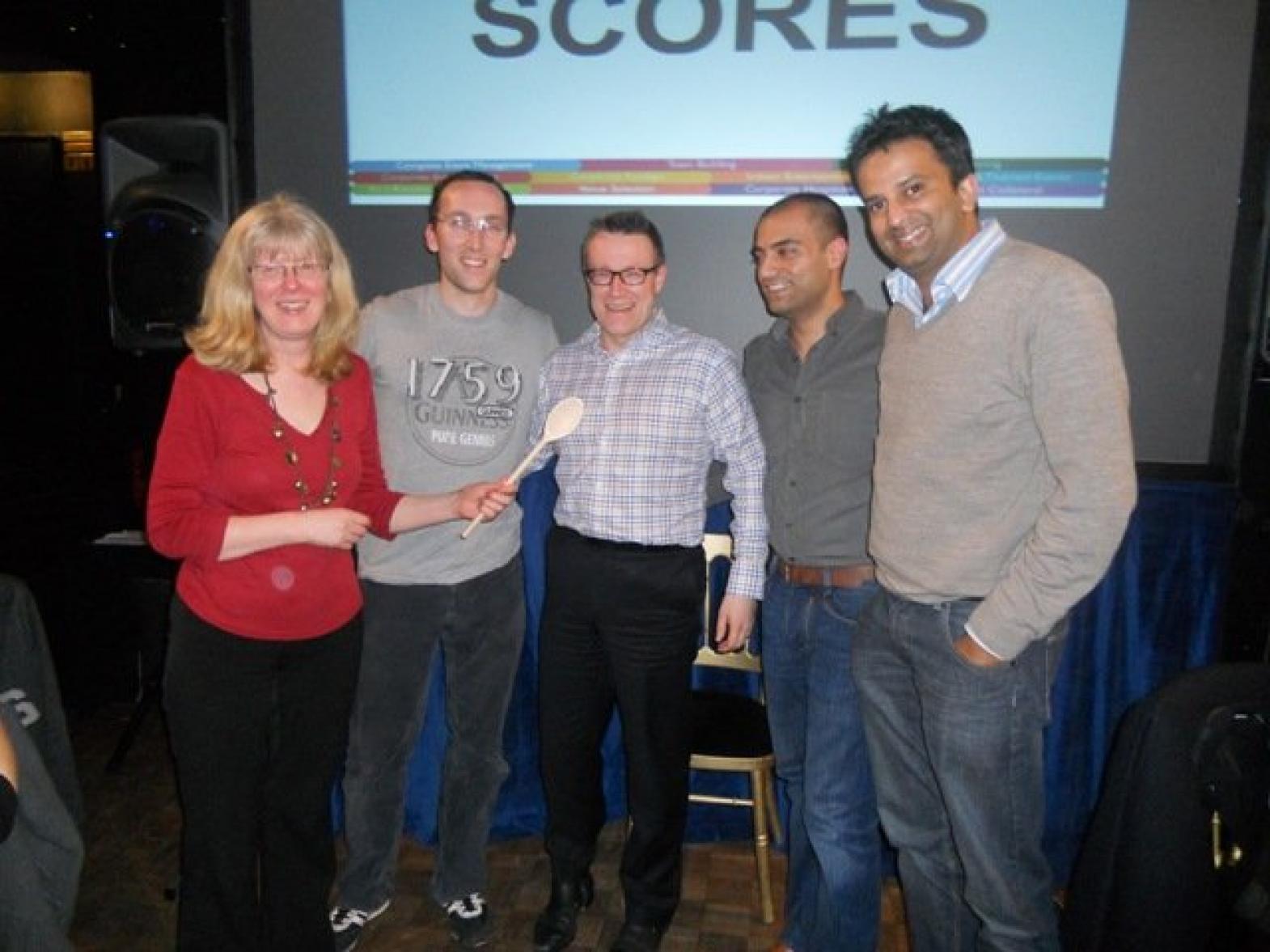 As the Executive Quiz Night drew to an end in a blaze of musical glory, everyone held their breath to find out who were to be crowned the champions. In the end their could be only one winner and it was... We Kames we saw we Conquered, the company's reigning Quiz Champions struck again taking home the trophy with a remarkable 6800 points. Bringing up the rear and taking home the Wooden Spoon was John Terry Scores more than us with 4300 points. In the end it was a fantastic Evening Entertainment that was enjoyed by everyone so a shout out must go to Alisa and the entire social committee for putting the night together for the team. We look forward to our next meeting where we will have to make sure they don't win yet again