The Trail Finders Sports Club in Ealing, West London was the fitting venue for our latest morning of corporate team building - Crystal Challenge style. A group of 20 or so from KCA Deutag enjoyed the wide range of problem solving, physical and mental activities on offer until the early afternoon. The guys split into 4 relatively small teams. The International Challengers, Crystal Amazing, Nine Arms and Piston Broke. They would battle it out for the illustrious Team Challenge Company Winner's Trophy and the office bragging rights. The competitive spirit kicked into life as teams looked to get off to a flyer in the first game, Interlocker. Piston Broke laid down an early marker as they stormed into an early lead, correctly placing at least half of the puzzle pieces in the correct place. Nine Arms didn't need a hand as they were hot on their rivals' heels. Crystal Amazing looked average as they bickered and moaned about almost anything! Foula took charge of The International Challengers with her no nonsense approach and looked to drag them out in front. To no avail however and in a remarkably quick time, under 6 minutes in fact, the team Nine Arms took top prize at this early stage. Just behind them were Piston Broke, annoyed that they'd let their lead slip.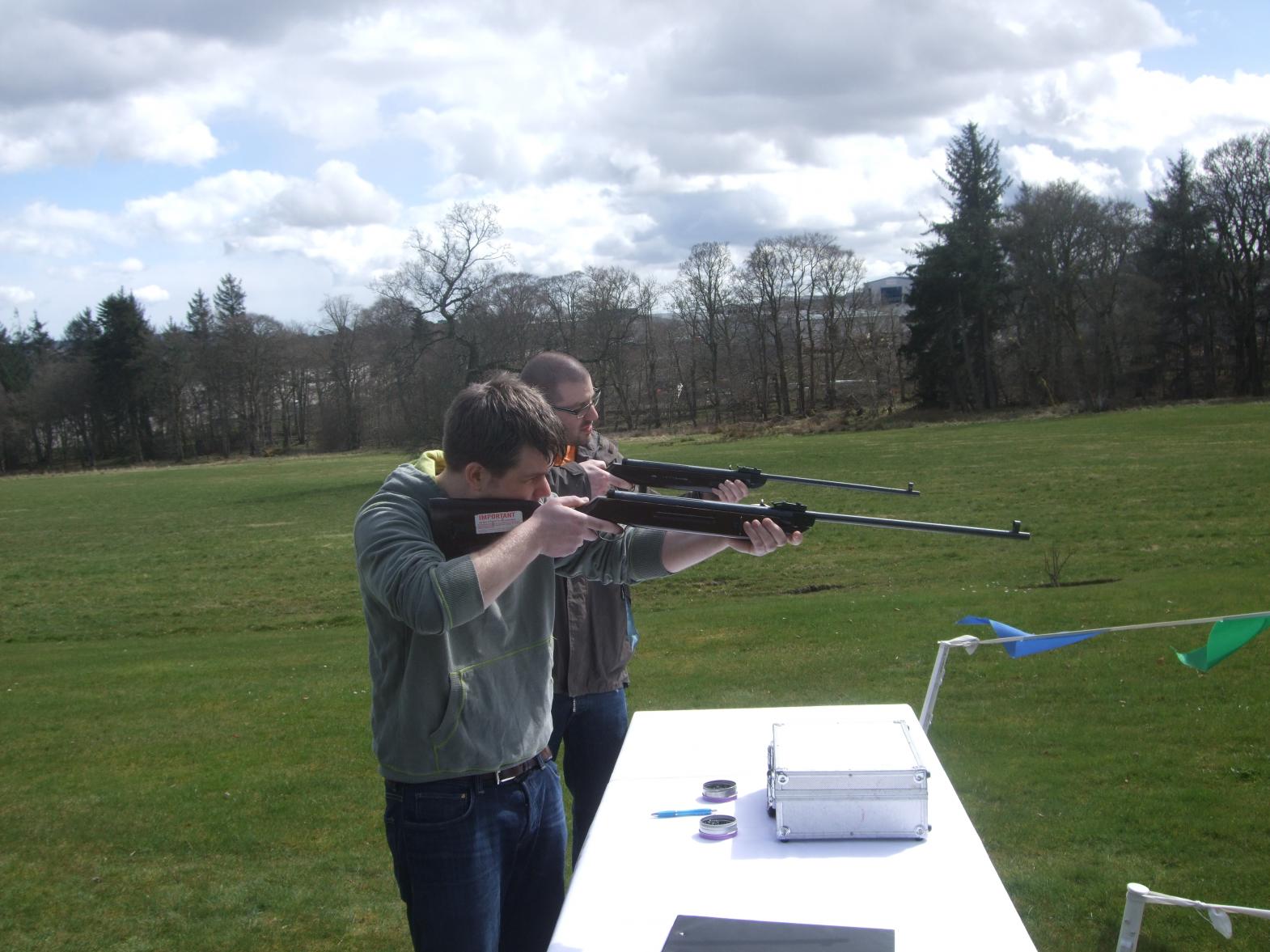 After a high tempo first round, the teams then split into their rotations for the rest of the day. Piston Broke immersed themselves in the Catapult and gave it their all but surprisingly posted a score of minus one metre! A Team Challenge Company first! Saeed did his all on the individual challenge but unfortunately couldn't master the Drop Zone. The International Challengers star lady, lucille, hauled them back into contention with a sterling performance on the individual. Crystal Amazing lived up to their billing on Ring the Bell with a composed and well thought out attack. Nine Arms didn't miss Ruperts bad one when they stormed their way towards glory on the Chicken, Fox and Grain. The pistons were far from broken as they found a crystal at the end of a tricky Labyrinth. Crystal Amazing were living up to their billing once more as they aced the puzzles and the buzz off to stake their claim as favourites for the cup. They added another quick fire win with an impressive win on the Catapult under Alex's leadership. The International Challengers looked swell in the Chicken, Fox and Farmers outfits as the teams knew at this late stage that every crystal counted! They weren't just a pretty face. They had style and substance as they marched on towards two glorious wins. The early underdogs snarled in satisfaction as they knew they were climbing the leaderboard. John showed some excellent hand control as he chipped in with a crystal on the buzz off.
Each team were coming in strong and knew they would have to perform well on the final NASA Challenge to have any chance of reaching their goal. Some inspiring compromises and team work ensured that the teams were neck and neck right until the end. They all posted good to excellent slackers in what is traditionally a tricky activity. It was The International Challengers who took the moon in their stride and came away as top dogs. Hot on their heels were Crystal Amazing and Piston Broke. It was now time to grab the cash in the Crystal Dome finale, where each team went all out to reach their grand totals. Foula took it in her stride and grabbed as much as she could. Subsequent teams followed and the atmosphere stepped up a notch as they knew this was do or die, win or bust. Some amazing performances both across the day culminated in a very competitive and tight final leader board. The Wooden Spoon winners, cruelly, were Piston Broke with a respectable £100 inside the dome, commiserations to them. In 3rd were The International Challengers, who put in a brave performance and walked away with £250. In second place taking home nothing but memories were Crystal Amazing on a massive £370, the favourites just falling short. But the glory went to the team Nine Arms! They amassed a huge £420 inside the dome and were worthy winners! A true fairytale story! Well done to everyone on a fantastic and successful afternoon inside the Crystal challenge arena. Thank you to Sheena, Alice and Dawn for helping the day run so smoothly.