On Thursday 8th December it was the turn of GE Oil & Gas to brave the winter weather for a full on Team Challenge Company experience. We met up with Gillian and the team in snowy Ballater for a Scavenger Hunt and Trekking challenge! Before heading outside on this adventure, the GE team also had the great pleasure of being the last conference in Hilton's smallest hotel in the world! It was straight into an equipment check and Scavenger Hunt instructions before we divided the group into three teams; PNL, Whiskey Galore and Team Bubbles and straight away there was mischief in the eyes of Team Bubbles.

Wrapped up from head to toe with jackets, hats and gloves we all gathered together for a team photo and then set off to take on the seven bridges. After maneuvering down the snowy slope we headed to Ballater to knock off some of our photo challenges. There was almost a stampede when a man and a hat was spotted from a distance and it was Team Bubbles that got there first to secure the first photo challenge points! team PNL forced the pace so they could hit Ballater first and were justly rewarded with the best 'team on a bus' shot.
All three teams were given 15 minutes to finish the Hunt before we started our 4 mile trek back to base! Whiskey Galore were showing signs of early completion and then somehow managed to get lost in Ballater! With the rest of us shouting frantic directions from the fifth bridge they caught up and we all enjoyed a stroll together through the snowy lanes and tree valleys! Our final landmark on the trek the suspension bridge went to Whiskey Galore! Finally the mince pies and hot chocolate were only 15 minutes away as we wondered who had done enough to win! View our Scavenger Hunts!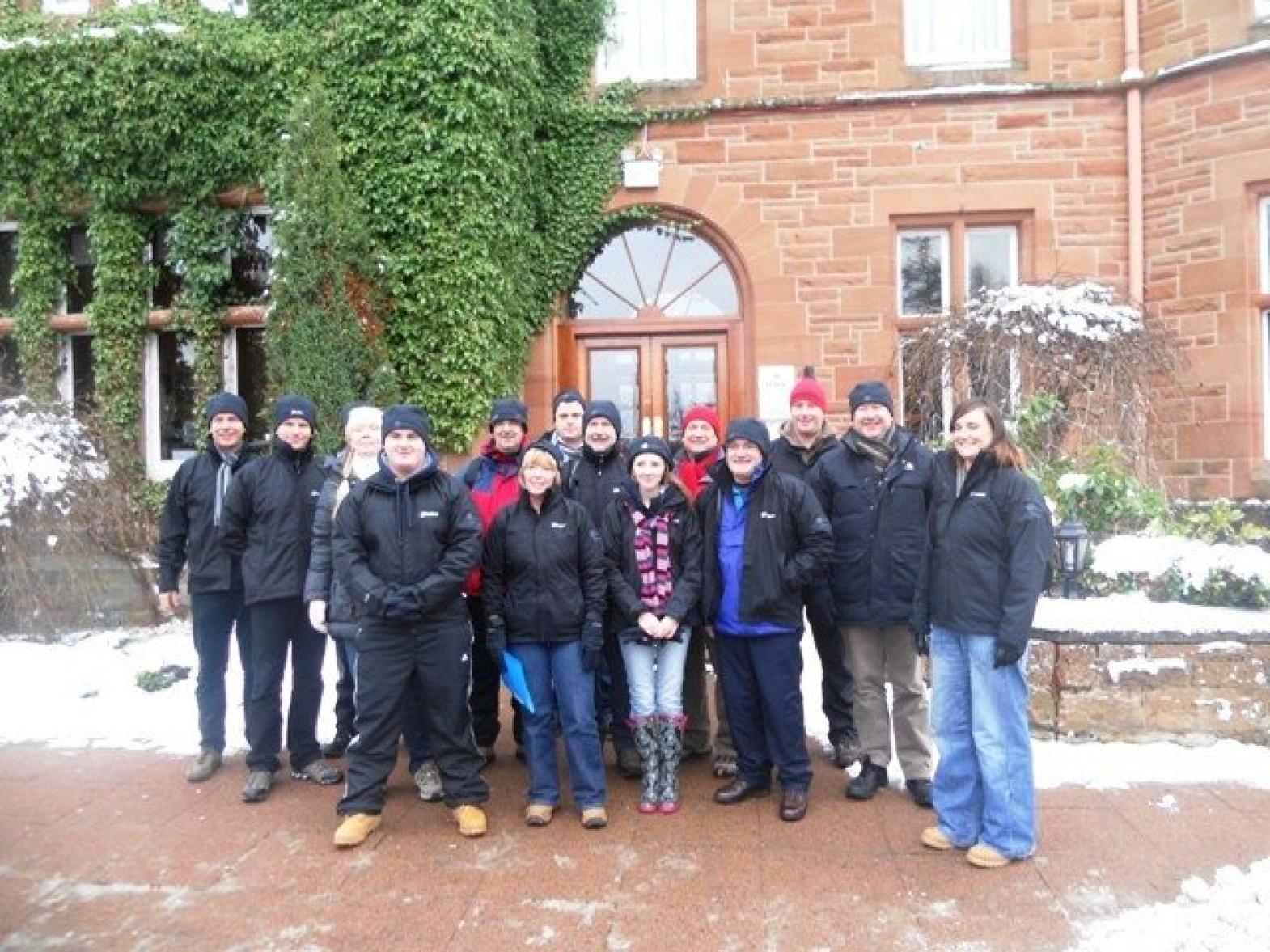 Once back and warmed up the teams showcased their scavenger items and viewed the picture gallery and he winning team was announced as PNL! They went home with the Trophy as Whiskey Galore went away with the wooden spoon and Team Bubbles went away with fun memories! Well done to all the teams for getting up and out there in spite of the Scottish weather! It was great to see that all of Gillian's hard work was time well spent as we had such a fantastic day spent in the snow.