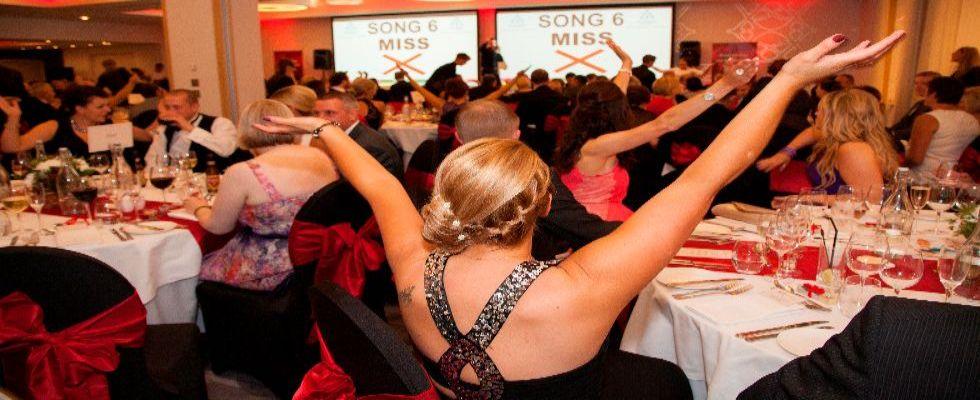 The Big Quiz Night is an exciting event that allows you and your team to bond in a relaxed environment facilitated by our professional event comperes and event management team. Participation in a range of quiz rounds allows your team to work together towards taking home that elusive Team Challenge Company Winners' Trophy!

For the format of the evening, your group of guests will be divided into teams for their evening or afternoon and will compete in a head to head format through the quiz rounds. All of these challenges and quiz rounds are extremely good fun and are suitable for all ages and abilities. All quiz rounds are different, including visual, audio and cryptic rounds. Teams will gather points throughout each round, points will be collated after each round by your very own score master! The team with the most points accumulated at the end of the quiz will be presented with the infamous Team Challenge Company trophy and of course the team with the least amount of points will go home with the Wooden Spoon!


Team Challenge Company have a massive variety and style of The Big Quiz rounds, including our ever popular Ice Breaker - "Hit or Miss". For this round, teams will listen to a short blast of music and decide to put their hands on their heads for a Hit or hands on their bums for a Miss, and only the winners stay standing.
Our visual rounds are extremely popular too, including "Guess Who", "Guess the Landmark" and "Logo Mix". Where images, will be displayed on the screen and teams must guest what these are.

Our Big Quiz can be themed to be bespoke to exactly what you are looking for from your evening. This can include, our Quiz of the Decades, Music, Television, Movie theme or many more.

The Big Quiz evening is perfect for various events, whether it be a grand finale to your Team Building Away-Day, a high-energy night of Evening Entertainment for your clients and guests, or simply a few hours of fun and excitement for you and your colleagues, our Big Quiz Night events are guaranteed to be totally unforgettable for all in attendance.
Team Building Downloads
You can download a copy of our Team Building brochures below