Rising majestically from its clifftop location looking out towards the Isle of Arran, Culzean Castle is surrounded by 240 hectares of beautiful Scottish countryside.
---
Designed by Robert Adam in the 18th century, the castle's elegant state rooms, exquisite Georgian interiors and enchanting terraced gardens combine to make this an impressive venue for Corporate Entertaining and all manner of Team Building and Team Development Events. The castle's extensive grounds provide a stunning backdrop for Product Launches and Event Management events.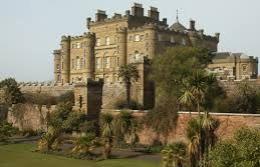 Enjoy a drinks reception in the Armoury with its world-famous collection of flintlock pistols and swords or on the grand Oval Staircase with its soaring colonnades, before enjoying a sumptuous banquet in the lavish Dining Room. You could easily spend an entire day exploring the country park alone, but with so many treasure-filled rooms to see inside the castle, it's well worth making time to enjoy both elements of this magnificent historic attraction.
Perfect for your next Evening Entertainment event whether it be a Corporate Quiz Night through dinner or a Fun Casino Night afterwards, Culzean Castle is sure to be your perfect setting.