The Copthorne Hotel Aberdeen is a beautifully maintained historic building, conveniently situated in the quiet west end of the city of Aberdeen. Like so many buildings in the Granite City, this hotel has a granite façade and it combines this impressive architecture with excellent customer service.
---
The hotel boasts a variety of meeting areas to choose from, including the Crystal, Rubislaw, Half Crystal and Gilcomston Suites. Wifi connected and air-conditioned, our suites are perfectly suited to high-powered corporate events such as Indoor Team Building, Gameshows and Corporate Quiz Nights.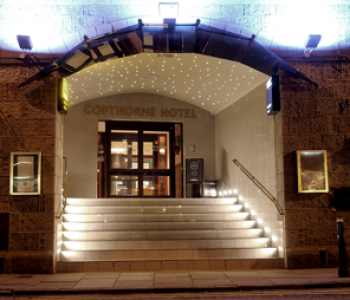 Aberdeen's premier hotel, located in the city centre within easy walking distance of the main shopping area. Behind the granite façade of this historic building you will find traditional charm combined with modern amenities and impeccable service.
An ideal base for exploring all the local attractions within and outside the city. With excellent connections from Edinburgh, Glasgow and London, Aberdeen is an urbanised, thriving business hub. An important sea port, it is also the gateway to the Northern Isles of Orkney and Shetland.