The wonderful Erskine Bridge Hotel and Spa played host to a fun-filled and rewarding afternoon of Indoor Team Building Activities with the Optimus Team of Divisional GM's, all of whom let their competitive sprit's shine through from early doors! The afternoon was designed to provide some entertaining and challenging Team Building for all in attendance, allowing the team to work together towards a common goal - and with the Team Challenge Company Winner's Trophy up for grabs, the Optimus Team didn't need much extra motivation! We kicked off with Helium Stick, which proved not to be as easy as it looked – though with some additional practice and some 'strong encouragement' from Stephen, the stick flew towards the ground and the team were ecstatic with their results…a great effort all round!

We then split up into teams to add the competitive element to the day, which say Team Happy take on the aptly named Team Killers in a bid to take home the Championship Trophy! Scrambled Egg was the next indoor team building activity to be attempted, as teams furiously designed and constructed a parachute to all their egg to safely land outside when thrown from a first floor window! Though aim was not Richard's forte, Team Killer's Egg landed beautifully to score maximum points – less can be said for Team Happy I'm afraid, who are thought to be still outside cleaning up the remaining egg yolk that splattered everywhere!
Our exciting and entertaining company team building activities continued with NASA Challenge, a real test of Team Optimus' mental ability and problem solving skills. It was to nobody's surprise that Susan had all the wild ideas – thinking outside the box is definitely a good thing Susan, but you were thinking outside of this planet (and perhaps of too many Bruce Willis Movies)! That being said, the team worked well together, eventually recording a fantastic score of just 22 points, adjudged by NASA themselves to be in the 'Excellent Category' – amazing! More problem solving came next with Interlocker, which saw Maxine join us to add some real excellence to the team – something that certainly shone through when they completed this notoriously difficult challenge in just 45 seconds – a truly incredible result.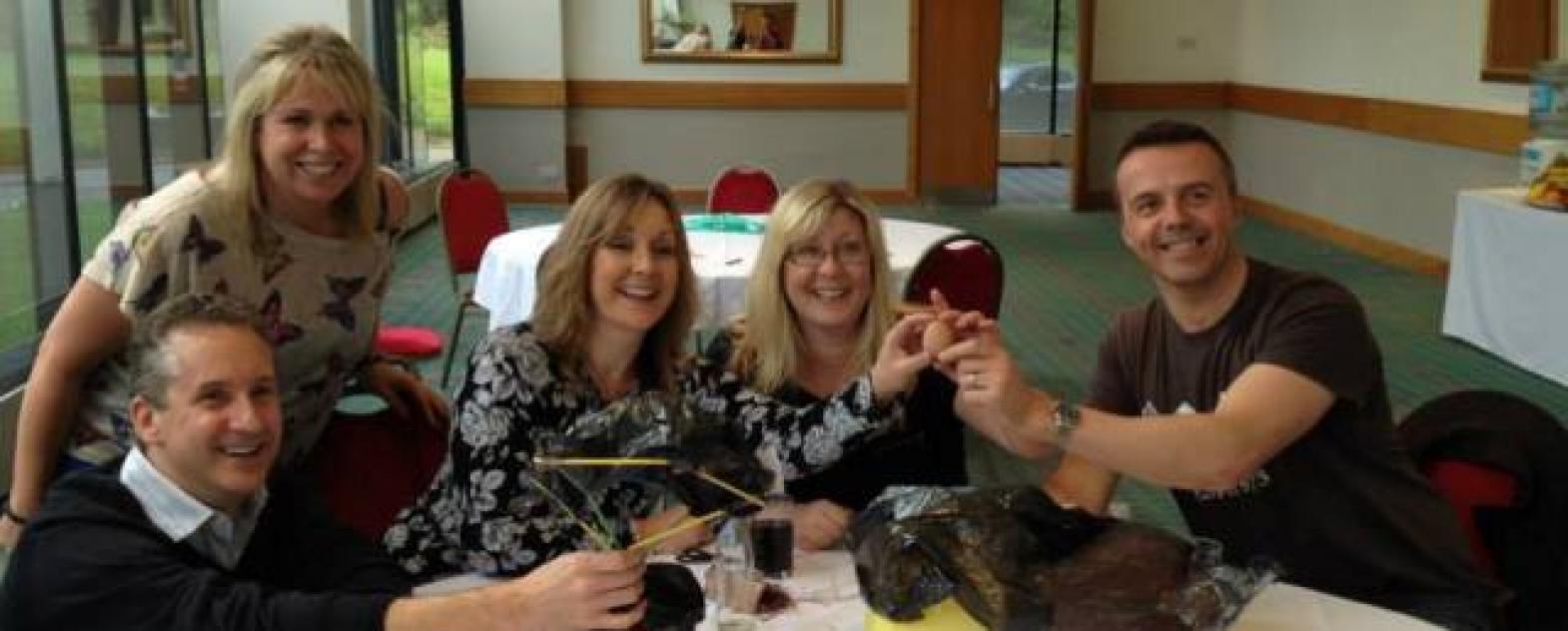 We got back into the competitive spirit of things for the grand finale on Bridge Build, which saw Zara and Rachael of Team Killer's go above and beyond the call of duty to try and secure the victory for their team. Their genius (and potentially copy-cat skills…!!!) knew no bounds, and indeed it didn't take long for Team Happy to find space in another room to build their structure away from prying eyes, as the tension rose in this Winner Takes All challenge. As the clock ticked down and the bridges were put into place, Richard and Steven were left with the mammoth task of driving their cars across the bridge to safety. With some extra encouragement from our happy clapping teams, both cars made it to the other side – a fitting way to close such a brilliant afternoon. As much as the team spirit had clearly inspired the entire Team Optimus, a winner had to be chosen, and with 2 victories out of 2, our Team Challenge Company Winner's Trophy went to the unstoppable Team Killer's, whilst Team Happy stepped up to rapturous applause to collect their second place Wooden Spoon! A big thank you and cheer must go to Susan for all her hard work and effort in organising such a fantastic afternoon of indoor team building activities, it really was a fantastic session for all. It was an absolute pleasure working with all of Team Optimus at Erskine Bridge Hotel and Spa for this team building Glasgow event, and we very much look forward to seeing you all again soon for the re-match!