The snow didn't stop us getting the team from Quickflange out of the training room and into the grounds of the hotel to compete in a selection of Challenges including four Highland Games.

The teams were chosen at random and the first task was to come up with Clan names so after some intense thinking the teams were born, Clan McWinners, Clan Fat Bastrads, Clan Fantastic 4 and the real Highlanders Clan McCallum. Firstly the teams were competing in the activity Caber Toss and Stone Lift and the title went to Clan Fat Bastrads with McWinners falling on the first hurdle and picking up last place spot. The next event was the funny Haggis Roll and Welly Boot throw which allowed for a huge turn around for McWinners who drew for 1st Place.
It was Archery time and fingers crossed that McCallum will wake up and start making an impact followed closely by the under the radar Fantastic 4. It was all a tussle for nothing as both Fantastic 4 and McCallum didn't get a look in and McWinners took glory. The final activity for the Highland challenge was Axe Throwing, there was a lot of fear going into this one especially when the teams discovered that the Axes were real! At last an event McCallum were good at and not only did they win they scored double points compared to any of the other teams so a well deserved 1000pts for them.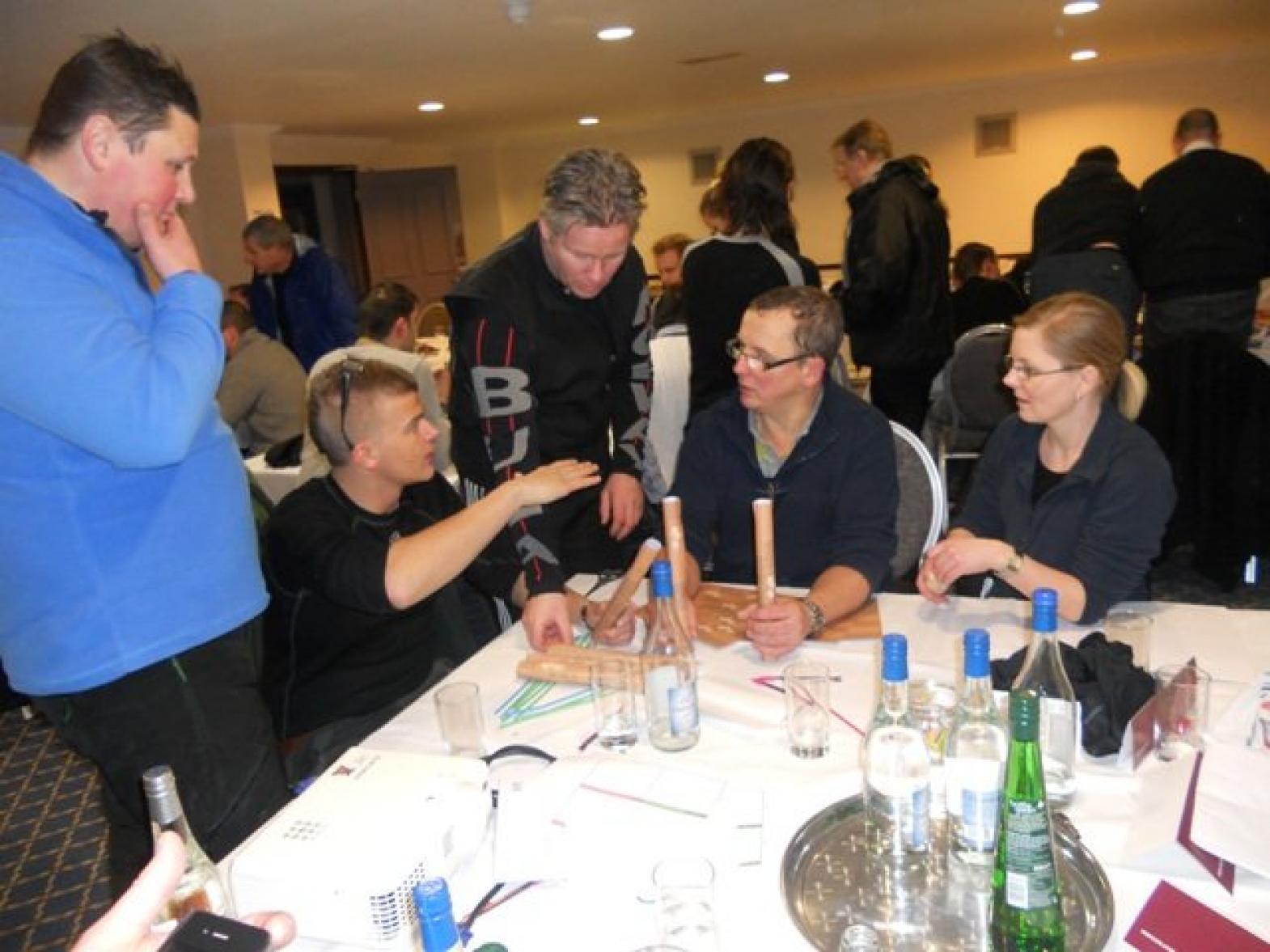 The challenge ended back in the warmth of the training room, snow kicked off our boots and everyone going into a hot flush as we felt the heat. It was the famous company Team Building activity Bridge Build for the finale. Only question was who will cross the bridge in one piece? Unfortunately only good news for one team and it was Clan Fat Bastrads and not only did they win the Bridge Build but that was enough to make them overall winners of this fantastic event with a score of 4200pts. The rest of the scores are.... in 3rd Place was Fantastic 4 with 2600 points, and in 2nd was a draw between McWinners and McCallum.
A huge thank you to Pam and Gillian for organising the event and Pam all of your practice almost paid off. It was lovely to have the opportunity to work with you both once again and we at Team Challenge Company are already looking forward to the next opportunity to work with you all again.