The impressive Hilton Hotel in the east of London on the outskirts of Reading city centre set the perfect scene for our latest Team Building London Event with a group of 75 HFMA employees from all over the UK. The group was divided into 9 teams in competition for the coveted Team Challenge Company Trophy as they entered the Pressure Zone. The initial activity of the evening "Flop It" proved a challenge for the competitors. Many of the practice shots showed some potential however the teams struggled to perform under pressure. Following the starter (and a few drinks) we moved onto the Descent. The added pressure of having no practice and playing for double money meant that many balls were dropped. Gavin pulled through for team 6 with a fantastic knee slide to gain the £200!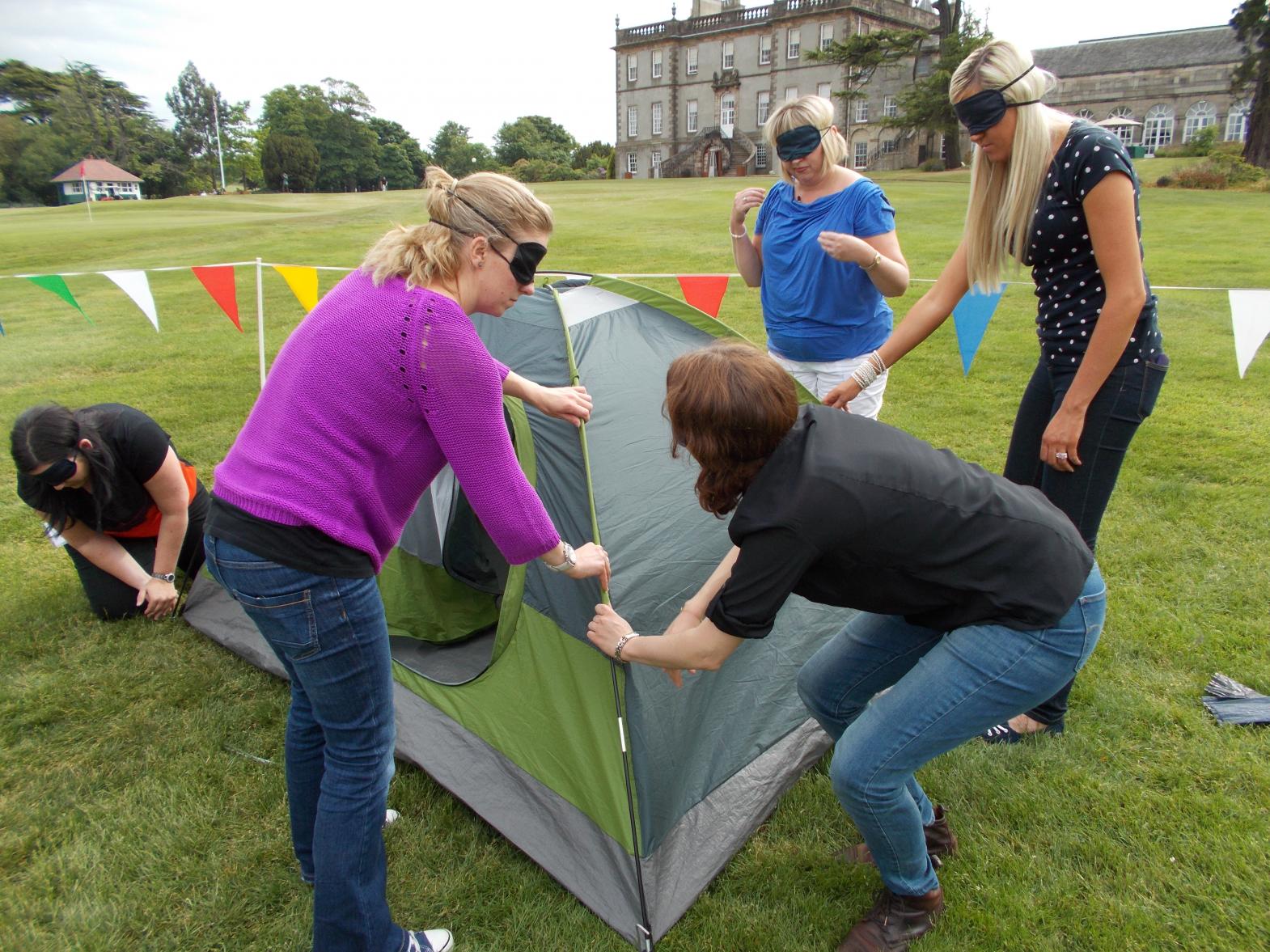 Once the main course was over we continued with the high energy games of the Pressure Zone. We moved on to Drop Zone where all teams got their practice and the chance to earn a further £900 for their table. Alan pulled through for his team on this round (as usual)! After dessert it was time for the main spectacle of the evening, the last round which separates the winners and the losers. Tier Drop! The fast paced, non stop, action packed finale seen our tables take to the Pressure Zone one team at a time to face the challenge. They got 90 seconds per team to try to score as many holes as possible before the time tan out. The renegades of table 7 came into their own on this round!
Once the teams were back in their seats it was time to count the money. Our team members Simon and Roger worked up a sweat ran round the tables collecting in all the hard earned fun money. The scores were counted and verified and it was finally the time to reveal the winners! In joint last place with an average £400 and going home with the wooden spoon was tables 4 and 3! Also joint in second last were last years losers team 1 and team 9 with £600. 4th place was a large jump to £1100 was team 7! In 3rd with a fantastic £1200 was team 2! 2nd place went to the brilliant team 6 with a huge £1900! In first place and going home with the Team Challenge Trophy was the king of selfies and the rest of team 8 with an untouchable score of £2500! Thank you to Alison for organising yet again another fantastic evening, we look forward to see what next year may bring.