As the bus pulled up the drive to the wonderful Mercure Ardoe House Hotel the sun was shining bright and spirits were soaring as the families from Universal Pegasus International arrived for their afternoon of family entertainment with www.teamchallenge-company.co.uk.
There was an array of Inflatable Fun to choose from including a Bouncy Castle for the young ones and the Sumo Suits for the young at heart. Giant Jenga also proved to be a favourite of the day as the music played and the drinks flowed. The excitement conitnued right throughout the day, and following a delicious BBQ lunch it was over to the Bucking Bronco for the competitive element of the day, and it saw several adults step up to the plate as well as a valiant effort from the younger guests. Callum and Zander were the most persistent of competitors as neither would give up all day until they reached a personal best, and it was down to Erin to take one for the girls and win with a massive 24 seconds!
The adult competition provided some of the most hilarious Corporate Family Fun Day moments for the afternoon, and proved to be a fierce challenge, though Ian, Gemma and Neil were quite far from making the grade. Adam, Calum and Jim on the other hand were riding easy, as all three managed to record a highly respectable time with only a second between the three of them. In the end the title was Jim's, edging out a victory with with a sesnational 27 seconds! Although there was a steward's enquiry as to whether or not there should be disqualification for a sneaky two handed grab of his Bucking Bronco rope. It was decided however that he was a deserving winner in the end.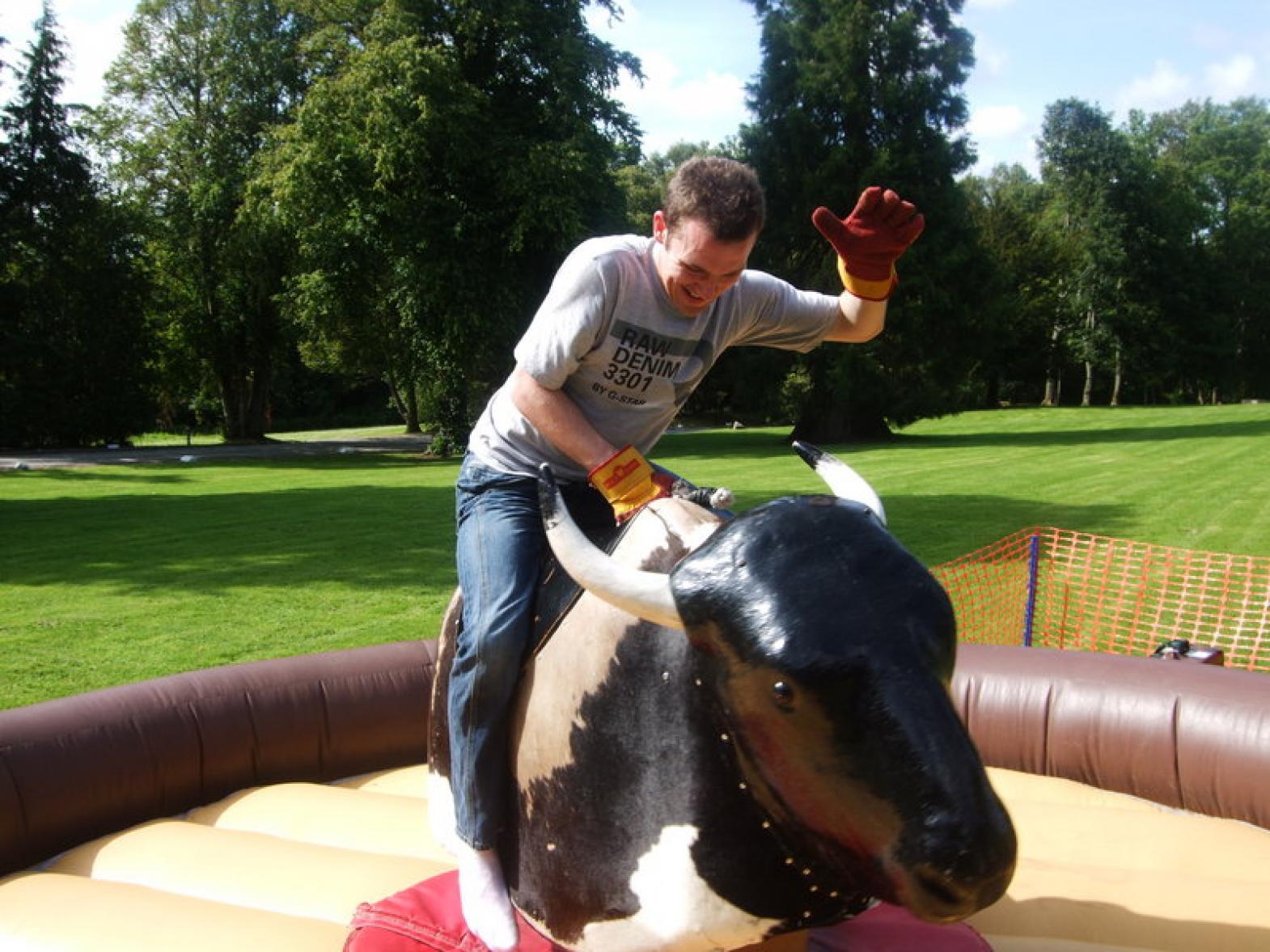 As the event drew to a close, there was still time for a selection of adults and kids races and lots of sweetie prizes. Sugar rush was huge for Alisha, Laura and all the other winners giddy with excitement after their mixture of flat racing, space hopper dashing and sack racing. This was definitely a part of the day was almost more fun for the spectators than the racers themselves! There was carnage as Jose, Gary and the lads destroyed the course and took home marshmallow mountains. As a fantasic afternoon of entertainment drew to completion, it was time to give a shout to Calum for all of his hard work in organising such a fabulous day for all. Everyone had a truly great time and none of us wanted to leave. Which simply means we at Team Challenge Company look forward to seeing you all again soon.