A productive team is one that is familiar with each unique member's strengths and weaknesses, working together to become more than the sum of their individual parts. If, however, there are strangers within the team, whether they are new starters or those who prefer to keep themselves to themselves, this can potentially have an adverse effect on the success of the team as a whole.
Ideally, there should never be any strangers in the office and as the leader of the team, you should do your utmost to encourage inclusivity. Fortunately, there are numerous corporate entertainment ideas that are perfect including new or more reserved colleagues.
World Hello Day – The Perfect Excuse
What better excuse than World Hello Day on Tuesday 21st November to encourage your team to introduce themselves and help to break the ice?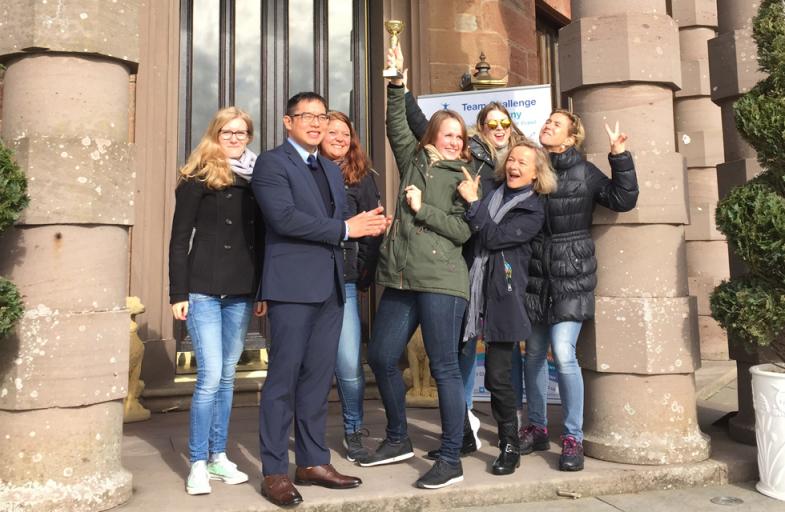 For many, starting at a new place of work and getting to know new people can be a frightening prospect, but it does not mean they cannot be a valuable member of the team.
Here at Team Challenge Company, we are proud to offer exclusive corporate entertainment ideas in Scotland (and the rest of the UK) to help improve your team. From full days out to office-based events, you are guaranteed to find the perfect team building event for you.
Our Favourite Corporate Entertainment Ideas
As part of our team building services, Team Challenge Company offers you the opportunity to build your perfect day with our incredible events. With our bespoke service, you can plan a murder mystery in the morning and an awards dinner in the afternoon.

We will be delighted to take on board your own corporate entertainment ideas and create a package suitable for you, offering you the best team building events in Scotland. We guarantee satisfaction, ensuring that you and your team come away with nothing but positive feelings, ready to hit the ground running when you return to the office!
Booking Your Team Building Event
It simply couldn't be any easier to plan and book your perfect team building event with Team Challenge Company. Our team of experienced professionals will work with you to organise every aspect of the event, ensuring that you are completely satisfied with the end result.

For more information on how to bring your corporate entertainment ideas to life, please call our team today on 03300 04 09 03 or contact us via our website.