If you are thinking about introducing team building activities into your office or workplace, you will know that there is an almost overwhelming amount of information available out there - and not all of it is beneficial. Here at Team Challenge Company, we strive to be a hub of team building resources that work at any level.
Monitor your workforce over a few weeks; watch how they interact, how they communicate, any conflict, positivity, creativity and make note of strengths and weaknesses among your staff. Identify key areas that need addressing and then research team building activities that can help rectify these issues.
No team building activity will be worth the time or expenses invested in it if you do not first undertake the research and build your activities around the issues you are experiencing. For instance, instigating an activity that encourages communication will not benefit your staff or business if the issue holding you back is low staff morale.

So, first and foremost: identify what you think needs to change in your office. Setting an end goal will ensure your team get the most out of the exercises and can take something tangible from the experience.
Secondly, decide how you want to go about introducing team building activities in your workplace. While companies such as Team Challenge Co exist and can organise these events for you and around your needs, you might want to start a bit smaller with indoor team building activities that are easy on time and budget.
Finally, do it. A lot of managers think about introducing team building activities and then leave it hanging as an idea, as a 'what might have been', while umming and ahhing about the idea rather than just doing it.
As a little source of inspiration to get you motivated, we have included a few of our favourite DIY indoor team building activities that can easily be achieved within your own team, with minimal organisation, budget and time.

Two Truths / One Lie
This short exercise deals with improving communication and team bonding.
Every person present must write down two truths and one lie about themselves. The team then quiz one another about the statements and vote as to which they think is a lie for each person.

The Egg Drop
This activity takes up at least 2-3 hours depending on the size of your workforce and encourages team building and problem-solving.
Divide into small groups, each with an egg. Provide a selection of materials with which the teams must build a package to protect the egg from a drop at height. Each team must present their package with a 30-45 second sales pitch before dropping their package. You can either stagger the heights to determine an overall winner, or pick one height and have free-for-all prizes.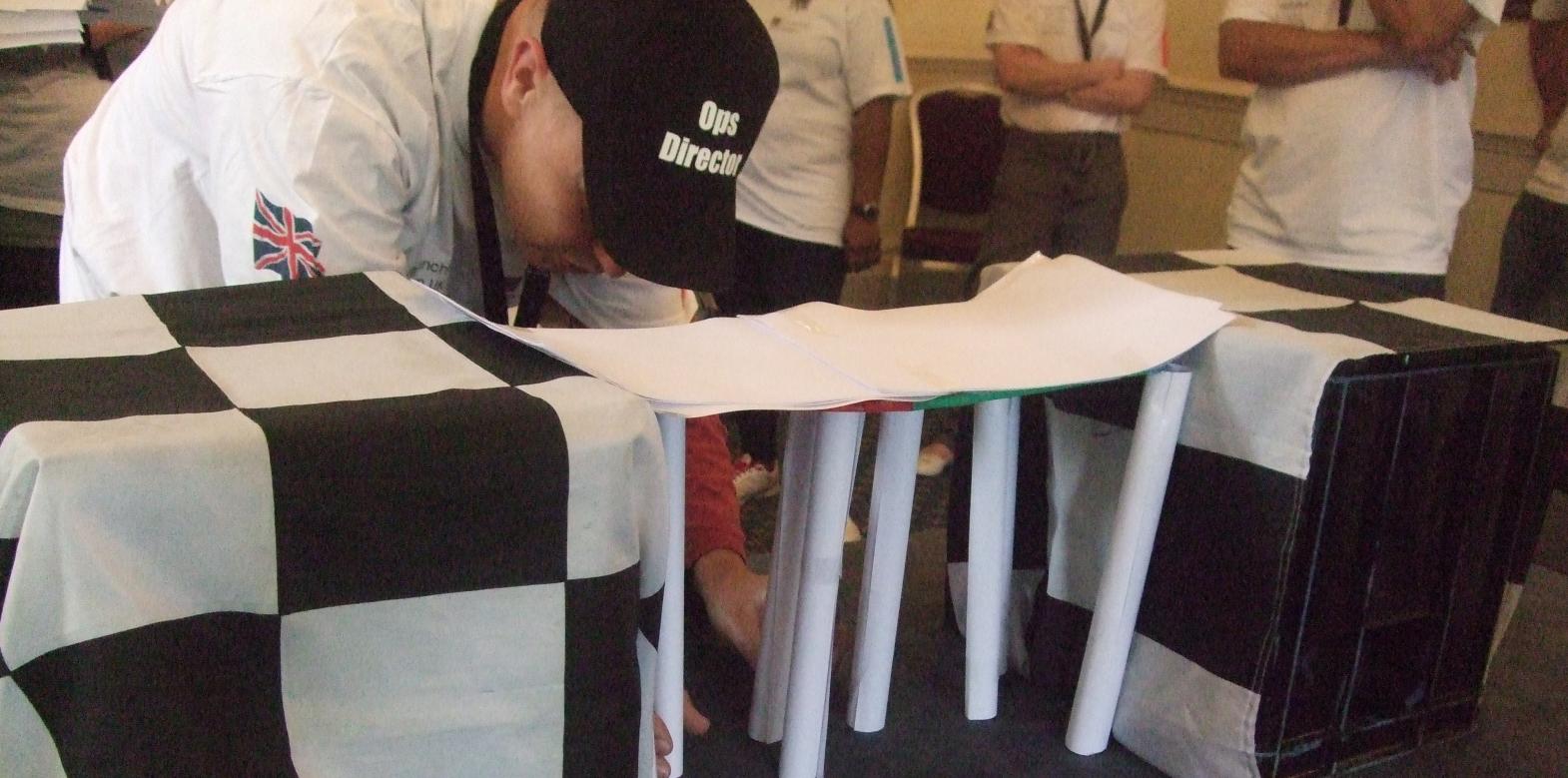 Lip Sync Battles
This fun team building activity boosts staff morale, and encourages friendly competition and collaboration. Split into teams, each gets to pick a song that they will have a few hours to rehearse lip syncing to, and they can even choreograph their performance. Have a variety of props available for teams to dress up and get fully into character. Teams vote for their favourites and the winners will forever bask in their lip syncing glory.
These simple indoor team building activities are just a few of many available exercises that could benefit your staff. If it has captured your imagination, but you need to cater for a larger workforce or would prefer a whole day of activities planned for you, then Team Challenge Company have a whole host of events suitable for your needs. Please contact us for further information.